When someone dies without making a Will for his/ her property, such a person is said to have 'died intestate' in legal terms. In this case, who gets the property of such a person? Do all the family members inherit the deceased's property? For that matter, it may be noted that those who fall under the umbrella of legal heir as per law are entitled for such inheritance. Some assume that only sons are entitled to be legal heirs. Know who can obtain a legal heirship certificate from court.
What does Legal Heirship Mean?
Will is a document that depicts who is going to survive the deceased person's property. If a person dies without will, i.e. dies intestate, his or her legal heirs inherit the deceased person's property. Legal heirship is succeeding the property/ estate of a deceased person by his/ her heir as per the applicable law.
Who can be a Legal Heir?
In India, while there is no Uniform Civil Code, personal laws of individuals govern the matters related to division of property in family after death of a person. Succession is a subject dealt with by family lawyers as per the Hindu laws, Muslim laws, or secular laws, as the case may be. Usually, the parents, spouse and children of deceased persons are regarded as the rightful legal heirs. In Hindu Succession Act, legal heirs are categorised among various classes.
Legal Heirs under Hindu Succession Act, 1956
Class 1

Son

daughter

Son's daughter's son
son's daughter's daughter
brother
sister

widow

mother

son of a predeceased son

daughter of a predeceased son

Daughter's son's son
daughter's son's daughter
daughter's daughter's son
daughter's daughter's daughter

son of a predeceased daughter

daughter of a predeceased daughter

widow of a predeceased son

son of a predeceased son of a predeceased son

Brother's son
sister's son
brother's daughter
sister's daughter

daughter of a predeceased son of a predeceased son

widow of a predeceased son of a predeceased son

Father's father
father's mother

Father's widow
brother's widow

Father's brother
father's sister

Mother's father
mother's mother

Mother's brother
mother's sister
If there are no Class 1 and Class 2 heirs, in that case the agnates followed by cognates succeed as the deceased person's legal heirs. Agnates include people related to the deceased by blood or adoption wholly through males. While cognates are those related by blood or adoption but there is no necessity to be related wholly through males.
Muslim Legal Heirs
Sharers

Residuaries

Husband

Residuaries include blood relations through males as well as females related to the deceased through a second bloodline.


If there is no sharer, or in case some property is left after being devolved among the sharers, residuaries are considered for succession of the deceased's estate.

Wife

Daughter

Daughter of a son (or son's son or son's son and so on)

Father

Paternal Grandfather

Mother

Grandmother on the male line

Full sister

Consanguine sister

Uterine sister

Uterine brother
Sharers are prior rightful legal heirs followed by residuaries. If there is no one to survive the deceased as a sharer or residuary, the property goes towards the state.
Distribution among Sharers

Legal Heir under Indian Succession Act, 1925
Widow or Widower
Lineal Descendents
Kindred or Consanguinity - When the deceased and another related person descended from the same stock or common ancestor, they are kindred to each other.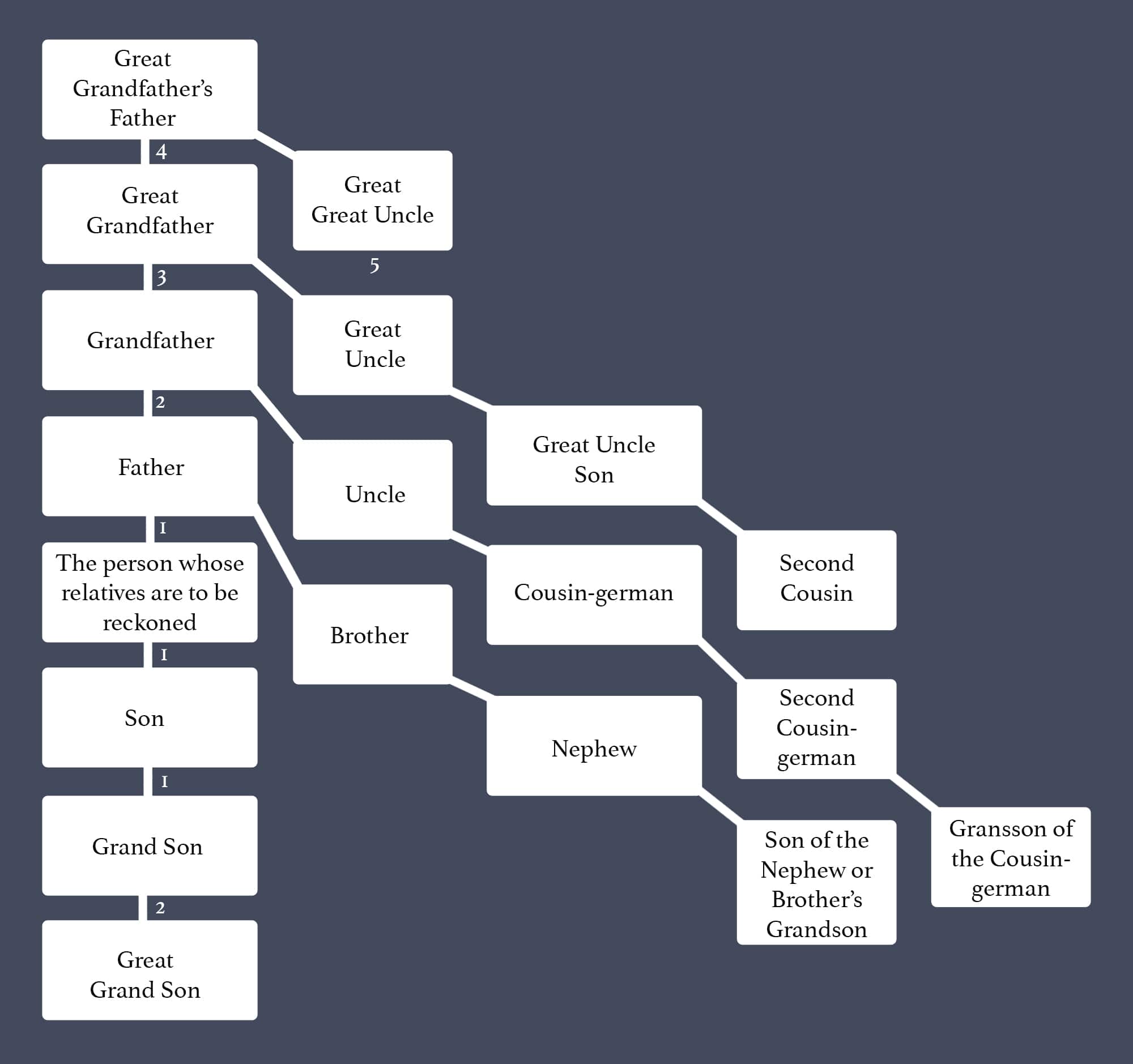 How do I Prove I am a Legal Heir?
In order to prove that a person is the legal heir of the deceased person, establishing one's identity is crucial. If it is a direct relation, i.e. spouse, child or parent, proving the identity is not tricky because of identification documents like Aadhar Card, passport, birth certificate etc. which contain some of those relative details. But when it is a distant relation not available in such documents, proving the family tree is required. Relationships with the deceased can also be proved through the local authorities attesting the relation through identity.
Why do I need a Legal Heirship Certificate?
To inherit the properties/ estate of the deceased
To claim the insurance money after person's death
To obtain arrears of deceased's salary
To obtain rightful funds such as Provident Fund, pension, gratuity, etc.
To get a compassionate job after deceased
Note - Even for the purpose of making a relinquishment deed, legal heirs need to be established to decide the share after some of the legal heirs relinquish their interest in the said property.
Documents Required for Legal Heirship Certificate Application
The applicant shall need the following documents in order to obtain a legal heir certificate:
Duly filled application form for legal heirship certificate - online or offline
Copy of ID Proofs of all legal heirs
Copy of Address Proofs of all legal heirs
Original death certificate of the deceased
Copy of ID and address proof of the deceased
Affidavit of undertaking by applicant and all surviving members
Legal Heirship Certificate Application Process
Some of the states in India allow laymen to apply for legal heirship certificate online, while some others follow the traditional process of visiting the government offices, filling physical forms, etc. Hence, the legal heir certificate application has to be made in accordance with the jurisdiction where the deceased last resided or the location of assets in question owned by the deceased.
To obtain the legal heirship certificate online, following steps have to be followed:
Visit the official website run by your state/ Union territory
Log on to the online portal
Provide all the genuine and required details in appropriate sections
Validate your details and contact number
Enter the Login ID and password
Fill all necessary details in legal heirship certificate application form
Submit the application form and download the application ID
After due verification, the applicant will be contacted for issuance of legal heir certificate
Applicant can also check the legal heirship certificate status on the same website
To obtain legal heirship certificate from court/ Tahsil, given below are the steps to be followed:
Visit the office of Taluk/ Tahsildar/ District Civil Court
Collect a legal heir certificate application from the concerned official
Enter the required information carefully and in a clear manner
Attach all the necessary documents
Submit all these documents to the concerned officer for issuance of legal heirship certificate from court or Tahsil
The authorities at local revenue officers and village administrative officials shall conduct verification process regarding such application
Duly enquire for legal heirship certificate status if the same is not received within the due period (usually 14 days).
Is Succession Certificate and Legal Heir Certificate same?
People often have this query of 'Is a legal heir certificate the same as a surviving member certificate?'. There is much difference between legal heir certificate and succession certificate in India. While one involves administrative authorization, the other involves judicial procedure. For partition of a property, one may need a legal heir certificate for quick settlement. While a succession certificate is a more reliable document. The table below answers whether the succession certificate and legal heir certificate is the same or not through various measures.
Difference Between Legal Heir Certificate and Succession Certificate
Particulars

Succession Certificate

Legal Heirship Certificate

Obtained By

Successors or Inheritors of deceased

Legal Heirs of deceased:
Spouse
Children
Parents

Obtained From

Magistrate or a High Court

Municipal Corporation/ Taluk - Tahsildar Office/ District Court

Purpose

To represent the deceased for collecting debts and securities due to deceased

Mainly to inherit deceased's property

Outcome

Establishes successor's right over the deceased person's assets

Establishes legal heirship and authenticates the successors

How to Apply

A petition has to be filed in the court of suitable jurisdiction

Hearing before court

Establishing requisite facts

Issuance of a succession certificate.

Details of death with original death certificate
Form filled
annexed affidavit duly signed and notarized
Details of legal heir
Submitted to the Taluk/Tahsildar/ District Court

Revocability

Can be revoked under Sec 382 and 383 of Indian Succession Act, 1925 if proceedings found defective

Can be revoked based on State laws (eg, Bombay Regulation Act, 1827)
Is legal heir and family member certificate the same?
When a government employee dies, the family members of such a person are often required to obtain a family membership certificate to proceed with legal claims further. A family member certificate can be obtained through Tahsildar or Village Officer, as the case may be. A legal heirship certificate is obtained after due verification of the applicant and the deceased. However, in order to obtain a family member certificate, there is not much hassle involved and may be issued immediately as well. The usual purpose of a public servant's family member certificate is to get pension, gratuity, insurance, provident fund, etc. from the government.
Conclusion
Before wrapping, it is crucial to know that all the above processes are followed only when the person dies without making a Will. There is a certain procedure followed for registration of a Will. Hence, even if there is a well documented Will in favour of one excluding everyone else, one can always challenge a Will if there seems to be some fuss. Also, a legal heirship certificate does not establish interests of any person in the property of the deceased. Even for the inheritance by grandchildren, it is advisable to obtain a succession certificate from the authorities.